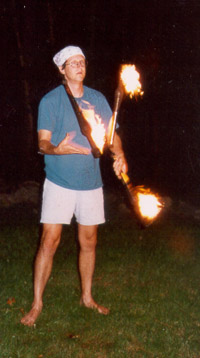 STEVE NOWICKI
---
Steve Nowicki is Bass Fellow and Professor of Biology and Psychology & Neuroscience in Duke's Trinity College of Arts and Science, and Professor of Neurobiology at Duke University Medical Center. He received B.S. and M.S. degrees from Tufts University, his Ph.D. from Cornell University, and did post-doctoral work at The Rockefeller University. Steve began as an assistant professor at Duke in 1989 and has never been seriously tempted to leave. He served as Dean of the Natural Sciences in Duke's Trinity College of Arts and Science from 2004 to 2007, at which time he was appointed Dean and Vice Provost for Undergraduate Education, a position he held until 2018. Steve is married to Susan Peters, with whom he's raised a son and published dozens of papers.
Steve's research explores mechanisms underlying the evolution of behavior. He's particularly interested in the function and evolution of animal communication systems. Steve is the author of over 125 peer-reviewed articles on neuroethology and behavior and, with Bill Searcy, co-author of The Evolution of Animal Communication (2005, Princeton University Press). He also is author of The Science of Life (2004, The Teaching Company) and Biology (2008, 2017, Houghton Mifflin Harcourt), the latter being a leading textbook for high school students.
In his former role as Dean and Vice Provost, Steve led the creation of the Rubenstein Scholars Program, a scholarship that provides full funding and professional development support for over 200 first-generation low income Duke undergraduates. Steve was given the Outstanding Faculty Award by the Center for LGBT Life (now Center for Sexual and Gender Diversity) in 2012, and a Faculty Special Recognition Award by the Duke Hispanic/Latino Alumni Association in 2017, both in recognition of his efforts to create a more inclusive campus environment.
In 1992, Steve was awarded Duke's Robert B. Cox Distinguished Teaching Award. He was awarded a John Simon Guggenheim Fellowship in 1999 and was named Anne T. and Robert M. Bass Professor that same year in recognition of excellence in both research and teaching. Steve was elected a Fellow of the Animal Behavior Society in 1998 and a Fellow of the American Association for the Advancement of Science in 2010. Among other professional activities, Steve has been chair of the Division of Animal Behavior in the Society for Integrative and Comparative Biology, and he served as president of the Animal Behavior Society. In addition to his long stint with the Duke administration, Steve also was a member of the Duke University Pep Band for many years, balancing his time between research, teaching, administration, and basketball games.
Click here for a PDF of Steve's Curriculum Vitae and click here if you want to see him juggle fire.